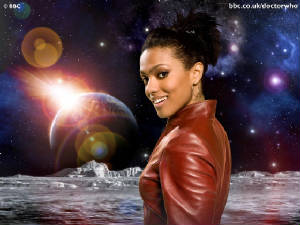 Martha Jones
Martha Jones is single, and lives in London. She is training to be a doctor at the Royal Hope hospital, until she meets the Doctor ( a different sort!) Her world is turned upside down, almost literally, when the hospital is abducted and taken to the moon.
She is widely thought to be the first 'ethnic minority' assitant the Doctor has had, and this is shown clearly in the series.
Because she's only just started with the Doctor, not much is known about her.
Her family seems to be in disagreement over Martha's Dad's new girlfriend, and because of this, it seems to be falling apart.
This slightly upsets Martha in the first episode, and going with the Doctor takes her mind off it.